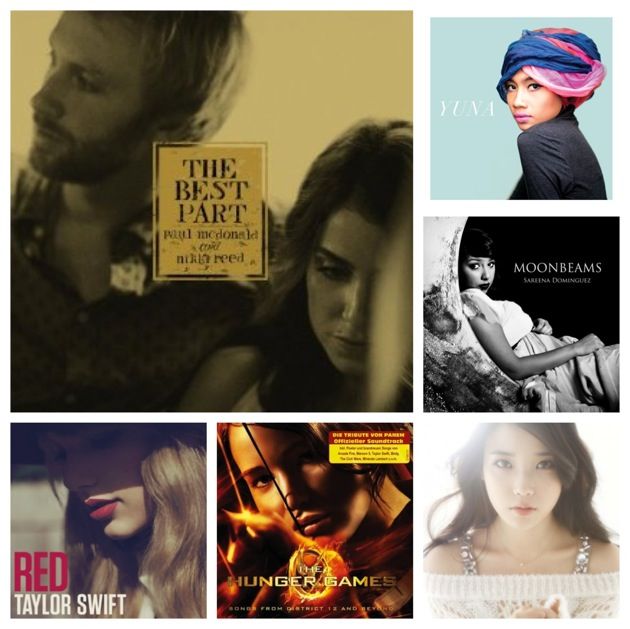 This year has been quite an awesome year for musical discovery. Here are my top musical inspirations discovered in 2012:
The Best Part
by Paul McDonald and Nikki Reed: Surely they have to be my favorite discovery this year. I'll confess that the thought of movie stars taking a detour into music makes me a bit... *shurggs*, and this is a shame because I must miss so many excellent artists. Ever since discovering that Nikki Reed wrote the indie film, Thirteen, I've been a bit fascinated by her. When I found out that her and her American Idol contestant husband, Paul McDonald were collaborating to make an album, I had to give it a taste. The Best Part is a smooth blend of country, folky, blues, and their voices coalesce so beautifully. The EP is calming and smooth, my favorites being, 'The Best Part", "Goodbye", and "Bouquet of Lies". Nikki has a humble stance on singing, having been encouraged by her husband that they should take this step. Her voice is so different from what I imagined: clear, pure, with a raw beauty to it that calms and intrigues. How adorable is it to take on an artistic project with your loved one? This is totally a dream of mine. I love these two, and sincerely hope that this is not the last collaborative project we see of them.
Yuna: My discovering Yuna is actually a delightful little story. Earlier this year, I took little Nikki Fierce (my purple ukulele) into Guitar Center for re-stringing, and stopped at the bag check. The man behind the counter looks over my shoulder, blinks as if taken aback, and says to the person behind me, "Hi! I love your new single." A happy voice laced with shyness replies, "Thanks. Thank you so much." Of course at that moment, my attentions are piqued. I love new artists and the thought that one stood right behind me?... Score. The woman behind me and her friend commented that they thought Nikki was cute, and I couldn't help but brim. I finally got a good look at the woman I would discover is Yuna, a Malaysian artist making a smash in the US for the first time. Her sound is eclectic, fun, romantic and dreamy. The best after work, and ready to chill music ever.
Moonbeams
by Sareena Dominguez: This girl is artistic, beautiful and poetic. Her sound is acoustic and gentle, with a touch of rain. I call her music my "rain" music, not because it's sad (though some tracks are a bit heavier), but because her music has the same affect of hearing rain fall on a tin roof (thank you, Norah Jones) the night before your day off. I found myself wanting to keep listening for beautiful poetry, and was not disappointed. Favorite Tracks: "Moonbeams", "Ghost", "Stop Saying Sorry", and "Unwoven"
IU
- I know I'm not the only person to have recently jumped on to Korean Dramas (Thank you, Netflix), especially with the latest surge of K-Pop. Amidst my discoveries, I started watching
Dream High
, which I must say is such a great series surrounding students who hope to make their dreams of superstardom come true. Each character is so talented, it's awesome. But IU...she is brilliant. She plays a quirky, romantic outsider who is incredibly endearing. Show aside, she has already been dubbed Korea's 'little sister'. One song of hers from the Dream High Soundtrack called "Someday" makes me smile everytime. It is a pop song with a jazz smoothness that keeps me listening. I'm of the vein that all music, no matter what the language, can move you, and Someday proves my point. IU's voice is so beautiful and mature. It would be awesome to see this girl make a splash internationally.
The Hunger Games Soundtrack
: I was delightfully surprised when the first installment of the beloved series was portrayed in a realistic, Appalachian way. With this addition comes the wonderful folk sound of the soundtrack. I had no idea that I loved Folk/Americana music until I listened to this soundtrack. Favorite tracks: "Safe and Sound" by Taylor Swift and The Civil Wars, "Tomorrow Will Be Kinder" by The Secret Sisters, "Rules" by Jayme Dee, and "Just A Game" by the wonderful, Birdy. They could've made this soundtrack really pop and gushy because it's adapted from a young adult novel. But, I'm happy they chose depth instead.
Red
by Taylor Swift: I know that she is met with a mix of wonder and chagrin, but I'm happy to have fallen onto the Taylor train with this album. I've always admired her as a lyricist. Unlike those of my generation, and many of todays' artists, Taylor has somehow made it okay again for young women to be young, to dream, to long to take a walk with the guy who has captured their attentions. She holds the ability to write what I believe many of us still dream about. Taylor has some really beautiful songs showcased on Red. Begin Again made up my mind to purchase the album. Other Favorite Tracks: "Starlight", "Sad Beautiful Tragic", and "The Last Time" a duet with Gary Lightbody.
What were your favorite sounds this year?