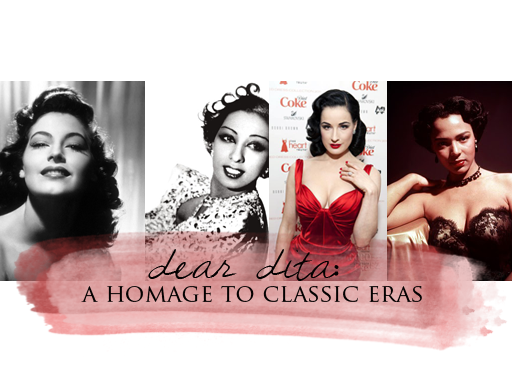 I chose to address this letter to the beautiful, Dita Von Teese, as she continues to be a symbol of these wonderful bygone eras, recreated for us to marvel, to learn, and to glean from (all of us who adore classic beauty).
Dear Dita,
I remember believing that I would hate primping my hair and outfits when I was younger. But as I've matured, I began to notice the great beauties of the 30s, 40s, and 50s. Women like Dorothy Dandridge, Josephine Baker (1920s), Marilyn Monroe, Ava Gardner, Liz Taylor, Judy Garland, Lena Horne, really, the list can go on forever. I watched them glazed across my television in awe. How was it possible for them to look so gorgeous time and time again--never lacking in dignity, always refined? Last year, I stepped out on a limb, and decided to pin curl my hair for a black tie event. As each curl fell, I realized that I never felt more beautiful. I felt elegant, sophisticated, and confident. I felt as if I could present the best me to the world, personality to boot. All of the fashion myths of our generation, are squashed when met with the women of these Eras. Suddenly pleas for sticks drowning in gossamer, are replaced with women who have actual shapes, curves, and meat on their bones.
The versatility of a woman of these eras, whether to dress down, to get in touch with a more flirtatious side, or to simply just be, translates beautifully. You made the clothes, the make up, everything, not the other way around. There in an inherent confidence that wafts from these woman, the comfort they have in their own skin. There is no compromise of self for others. Our grandmothers naturally cleansed their skin, sewed their own clothes, spent hours on their hair...these very acts are art in themselves.
Thank you, Dita, for showing me the beauty of primping. The beauty of wanting to make every single day a reason to dress up, a reason to glow, and a reason to wear red lipstick!
Love,
Britta
Source:
1
|
2
|
3
|
4